Here's how you get on someone else's newsletter...
*Hey man - why don't you post about how awesome I am??*
Oh The Art of Self-Promotion…
---
Every week, we break down the best hacks to scale your newsletter, in real time and reporting on our fails and wins.
---
Self promotion, it's a tough one. But a necessary one.
How to get others to promote you:
Let me ask you something I'm sure you've asked yourself many times: Wtf is the point of an influencer? Seemingly all they do is try on clothes (or skincare routines, or sandwiches) and tell you about them. And while this may seem like a "job" only by 2020 standards, it's been around for ages. And TBH there is a big value there despite us giving 'em a hard time. People love a trusted source (see: Yelp, Reddit, TrustPilot, Amazon, Youtube...you get the point).
But here's the catch: in order for an influencer to garner trust and, most importantly, sales, they have to have credibility in the domain they're influencing. You wouldn't get health advice from Lil Wayne (blink twice if you're okay) just like you wouldn't get relationship advice from Taylor Swift. The same can be said in any domain — the key is product-market fit. When done right, leveraging another person's relevant audience can work wonders for raising awareness about your brand, getting people warmed up to hear from you again.
That's why this week, we are going to talk about Cross Promo, w/ "Influencers" (is that us now??) and how to do it right.
Method
: Cross your promos & dot your i's.
Let's start by first defining what a cross promotion is: in simple terms, you can think of cross promotion as expanding your product's following. In order to effectively cross promote with another publication, you first need to do some competitive research. Ask yourself:
What are other people in this space doing?

Where are the crossovers in our audience?

What's a unique take or perspective I can offer to them?
Once you've identified brands that would be a good fit for a prospective partnership, think through what you can offer them. A few examples would be a link exchange (you shout us out, we shout you out), guest post swaps, free content in exchange for a mention, or you can pay for a mention (this isn't our favorite, for obvious reasons). 
Ok, so now we're on the same page about how to cross promote, let's dive into what we did so you can apply this tactic to your newsletter.
Action Gameplan
: 
We decided to start with a one-for-one exchange because we are here to help ALL lists everywhere grow, not just ours. That altruistic model is one that jived best with what our goals are. 
Step 1: Find Relevant Newsletters
Codie took to Twitter and posted the following message:
This tweet got 80 comments, and she DM'd each and every person with this personal follow up message:
From there, she used a Google intake form to capture information and set expectations for what's to come next:
Olman tried the same thing and… wah wah.
No responses on Twitter or LinkedIn. (Insert sad face).
Which was interesting, because his email responses to people were super high, but social less.
Next time what we think we will do is have him post the same thing, but add tags to the people he knows in his network who have newsletters and ask them specifically. Another way to create "viralness" using another's network.
Codie has a little audience she can leverage and posts about newsletters, Olman hasn't before. So we bring in those he knows who do. Try that yourself. Any other ideas? Comment below.
Step 2: Work That Outreach Magic
Anyone who filled out this form of Codie's above and had a relevant list that was a good fit for our audience received this follow up email:  
How do we decide who is relevant? 
We have a very clear avatar for who follows Grow Getters. Entrepreneurs, hustlers and those hungry to share their creations with the world. We pick newsletters that we believe will appeal to them around startups, marketing, sales, growth hacking, tech, newsletters etc. 
Then Codie pings 10 newsletters and see if they can cross promote with a unique idea for their newsletters.
Here's what happened:
Got a couple responses that looked like this: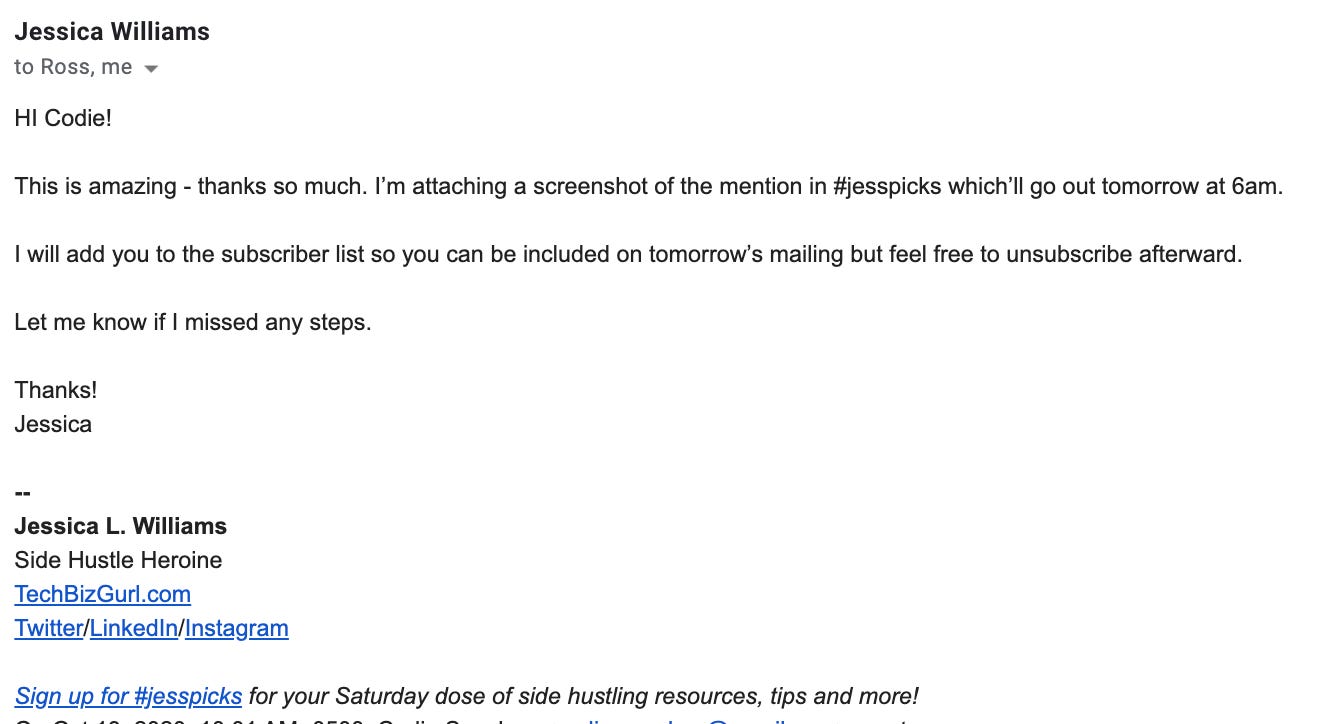 Which was awesome. We asked them to promote first and then to track it..
Pro tip: Create a custom Bit.ly link so you can have source attribution:  

Takeaways: 
Reach out to newsletters that you truly like and want to promote.
This should be authentic with real reasons why you like them. As an example, here are three of ours!
Jess Picks - Why we like it? We love tech tools, Jess picks rad tech tools. Also she's written over 200 newsletters. AIN'T EASY! Commend that. Sign up for #jesspicks for your Saturday dose of side hustling resources, tips and more!

The Slipstream - Why we like it? Love the tagline "Save time. Become better." We also love how short and sweet these are, kind of remind us of Seth Godin. Sign up here for Karmsheel's newsletter.

PathNine - Why we like it? Love the giffs. Love the specific deep dives and like this one on remote work and comparison to football. Sign up here.
Make it Easy on Yourself.
Use a template like google forms to bring in links and responses to your questions and use bit.ly to track which shoutouts work and which don't. We've decided the more tech, the better. :)
Don't Beat Yourself Up if Something Doesn't Work.
The Olman shout's didn't land. That's cool. We're experimenting sometimes they won't land. No shame in our game, we just try try again.
Double down on What Does.
Remember that each week we give you a new idea. It doesn't negate the prior week. Olman is still getting about 30-50 subscribers a week using Alfred from LinkedIn that we highlighted last week. Double down on that. This isn't about every tactic landing.
Some Weeks are for Growing, Some are for Showing.
This week was a grower. Meaning we planted seeds and they're working but not all our newsletters were cross-promoted yet. Little rivers turn into the ocean. It's ok to build them. We'll track each one to see what grows and what doesn't!
Challenge
:
Do what we did.
Post on social media, tag us and we will repost.
Tag others who may amplify your post.
And see if you can get comfortable with self-promotion. What you are saying is IMPORTANT. What you are creating has VALUE. You have an obligation if you are spending time on it to get it out and into the world. We're here to help you with that.
Hit us up at gg@growgetters.co - we respond to every email, and we're rooting for you! Or hell - hit us up for a cross-promote. We don't mind a DM slide every now and again.
Heuristic
:
Last week we had 1,636 this week 1,783. So 147 new subscribers.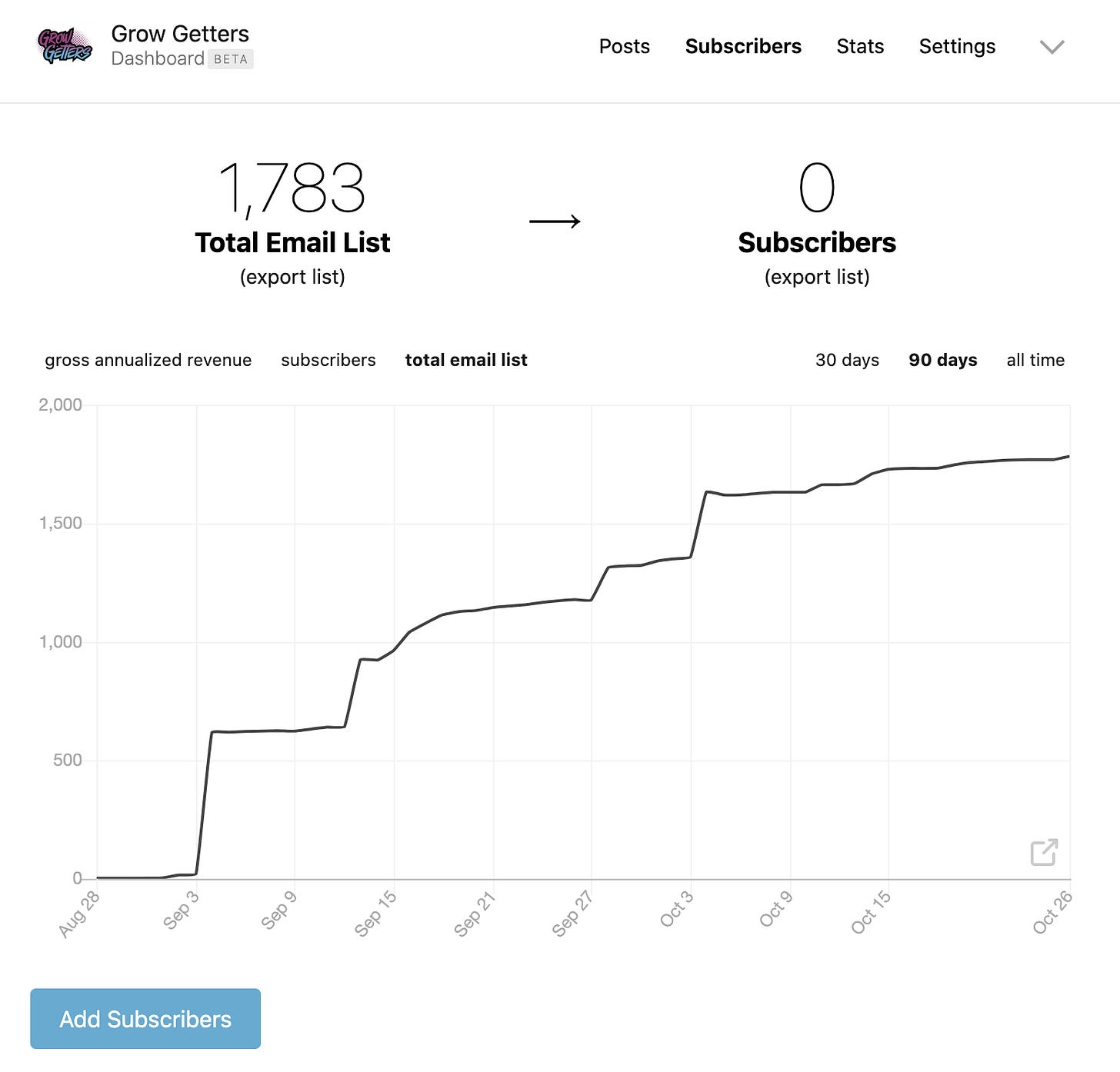 Grow Onto Others,
Ilona, Codie, & Olman