A Newsletter, On Growth Hacking Newsletters.
"Can't hack it" isn't in our vocab.
Welcome, Grow-Getters.
We break down week by week the best hacks to scale your newsletter, in real time and reporting on our fails and wins.
This should be fun.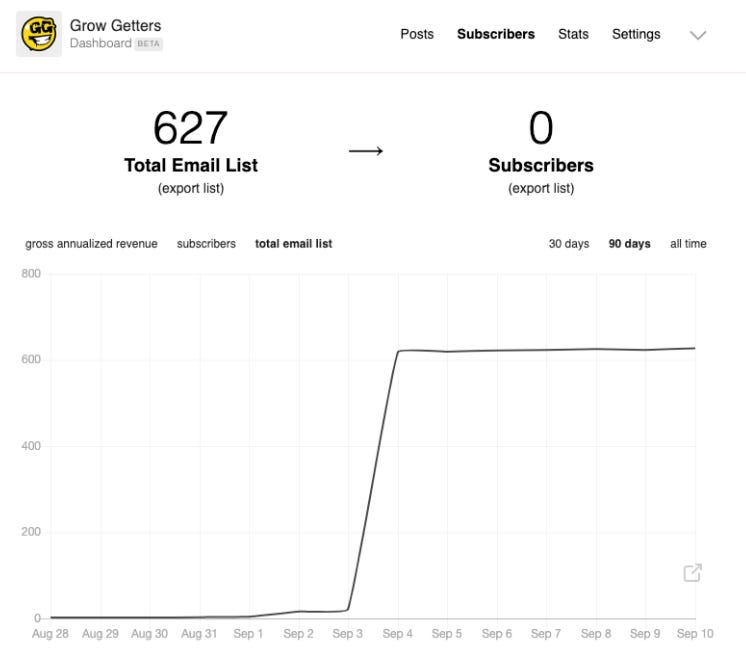 Whether you're looking to start a business, scale your offerings, sell a course, or become a NYTimes bestselling author, the single best way to do that is to grow a newsletter.
Why A Newsletter?
Because algorithms & platforms can't be trusted.
Whether it's Facebook, Amazon, Instagram, Twitter or Tik Tok if you build on their platform, they own your followers, you don't. Going back to their inception they have systematically been optimizing you to pay more, for less eyeballs. Anyone selling on Amazon, buying ads on Google of FB know what we are talking about. Not to mention they have a pesky habit of ya know, disappearing, like Snapchat, Myspace, and even AOL IM for you 90's babies.
Because you can create a community.
You're creating a following of people who want to hear from you. Who will be notified about what you're doing next straight in their inbox. Who can share with their friends and become evangelists. Brands are really just that, communities. Raving fans = higher profits, and multiples. You can grow customers by 40X more than social media, and sales by 333% with email. We think newsletters and email lists are the OG's that keep on giving, so does Andreessen Horowitz, which is why they dropped $15.3M on this newsletter platform we're on right now.
Meet the Grow Getter Crew:
Here's the why you should follow along: because we've used email and newsletters to bring in hundreds of millions of dollars in sales, establish ourselves as experts, build businesses and grow communities.
Codie 'Haven't Met A Mic I Don't Like' Sanchez
Partner at VC Fund Entourage Effect Capital, Built up a Nearly Billion Investment Biz in LatAm, Investment/Small Business Pundit, Former Kennedy Award Winning Journalist

Why a Grow-Getter: Her Contrarian Thinking Newsletter scaled to 40k+ subscribers in 4 months, Courses built on it from Unconventional Acquisitions did $50k prelaunch, all w/ zero employees.
Olman 'Olo' Quesada -
picture

Head of Business Development at AppSumo, where he has helped 1,000+ SaaS startups launch and grow

Why a Grow-Getter: He's a newsletter king (shoutout to Robinhood Snacks and The Morning Brew), with years of experience helping companies go from 0 to 100, real quick.
Ilona 'No Nickname Required' Abramova
Head of Content at AppSumo, and a pretty damn good email marketer

Why a Grow-Getter: She's a Type-A perfectionist, who loves to build a repeatable process for success. Plus, she's generated over $10M in revenue from email.
Now that the introductions are out of the way, let's get down to business.
In the meantime, tell your friends!